Much before the Russians, the US Air Force (USAF) downed its own MQ-9 Reaper Drone using an F-15E Strike Eagle that fired an AIM-9 Sidewinder missile to down the UAV. 
Advertisement
A USAF MQ-9 Reaper unmanned aerial vehicle (UAV) was brought down on March 14 over the Black Sea after a Russian Su-27 fighter jet collided with the drone's rear propeller.
The US State Department described the incident, which included two Russian Su-27 jets, as "unsafe and unprofessional" and alleged that the Su-27s dumped fuel on and soared in front of the drone several times before one collided with the MQ-9's propeller.
Russia denied any direct contact between its aircraft and the drone and said that the MQ-9 Reaper drone was flying with its transponders turned off and crashed after a "sharp maneuver."
The incident has raised fears of escalating already heightened tensions between the West and Russia amid the ongoing conflict in Ukraine.
There have been several close encounters between Western and Russian aircraft. However, the incident on March 14 is different, as it resulted in the American drone crashing into the sea.
The MQ-9 Reapers can be used for both surveillance and strikes, and the US has been using them over the Black Sea region for a long time to gather intelligence on Russian naval forces.
Advertisement
---
READ MORE
---
The MQ-9 Reaper Drone
Manufactured by General Atomics, the MQ-9 is a large unmanned aircraft that is 11 meters long with a wingspan of over 22 meters.
While the USAF uses it primarily as "an intelligence-collection asset," it can also perform precision strikes against "high-value and time-sensitive targets."
Reaper is about as big as an A-10 Thunderbolt II and can carry as many as 16 Hellfire missiles, equivalent to an Apache helicopter's payload capacity.
The drone is remotely operated by a two-person team comprising a pilot and an aircrew member who manages sensors and guides weapons. The MQ-9 is the first hunter-killer UAV designed for long-endurance, high-altitude surveillance.
The drone has had an eventful operational history, including precision strikes on several notorious terrorists and enemies of the United States.
For instance, on November 13, 2015, the Pentagon reported that a missile strike conducted using MQ-9 killed the infamous Islamic State terrorist Mohammed Emwazi, popularly known as 'Jihadi John.'
A British computer programming graduate, Emwazi rose to infamy in August 2014 when he presented the beheading of American journalist James Foley, the first of many gruesome videos in which he carried out the beheadings of Western hostages.
Brandishing a knife, dressed head to toe in black, and speaking with a British accent, 'Jihadi John' became a high-value target for US and British intelligence agencies.
ALSO READ: China Sends 'Hunting Rifles' To Russia To 'Hunt' Ukrainian, Western-Backed Troops; But Putin Needs Much More
Two US MQ-9 Reaper drones and one British MQ-9 were involved in the strike against Jihadi John in Raqqa, Syria, using a Hellfire missile from an American MQ-9.
Likewise, during the 2019–2022 Persian Gulf crisis due to the US withdrawal from the 2015 nuclear deal with Iran in 2018, Tehran's most feared military commander in the Middle East, Major General Qassem Soleimani, was killed in a missile strike by MQ-9 Reaper.
Soleimani was commander of Iran's Islamic Revolutionary Guard Corps (IRGC's) Quds Force and was considered the most powerful General in the Middle East and the second most powerful person in Iran after Supreme Leader Ali Khamenei.
Advertisement
The Pentagon said that Soleimani and his troops were "responsible for the deaths of hundreds of American and coalition service members and the wounding of thousands more."
In the early hours of January 3, 2020, two Hellfire missiles fired from two American MQ-9 Reapers struck a convoy leaving Baghdad international airport, killing Soleimani, who was on his way to meet then-Iraqi Prime Minister Adil Abdul-Mahdi.
---
READ MORE
---
When F-15E Fired A Missile At A MQ-9 Reaper
Interestingly, much before the incident with Russian Su-27 fighter jets, an American F-15E had once shot down an MQ-9 in Afghanistan.
The incident happened on September 13, 2009, when the ground controllers of the MQ-9, back in the US, lost contact with the Reaper, and the drone ventured on its own toward the border with Tajikistan.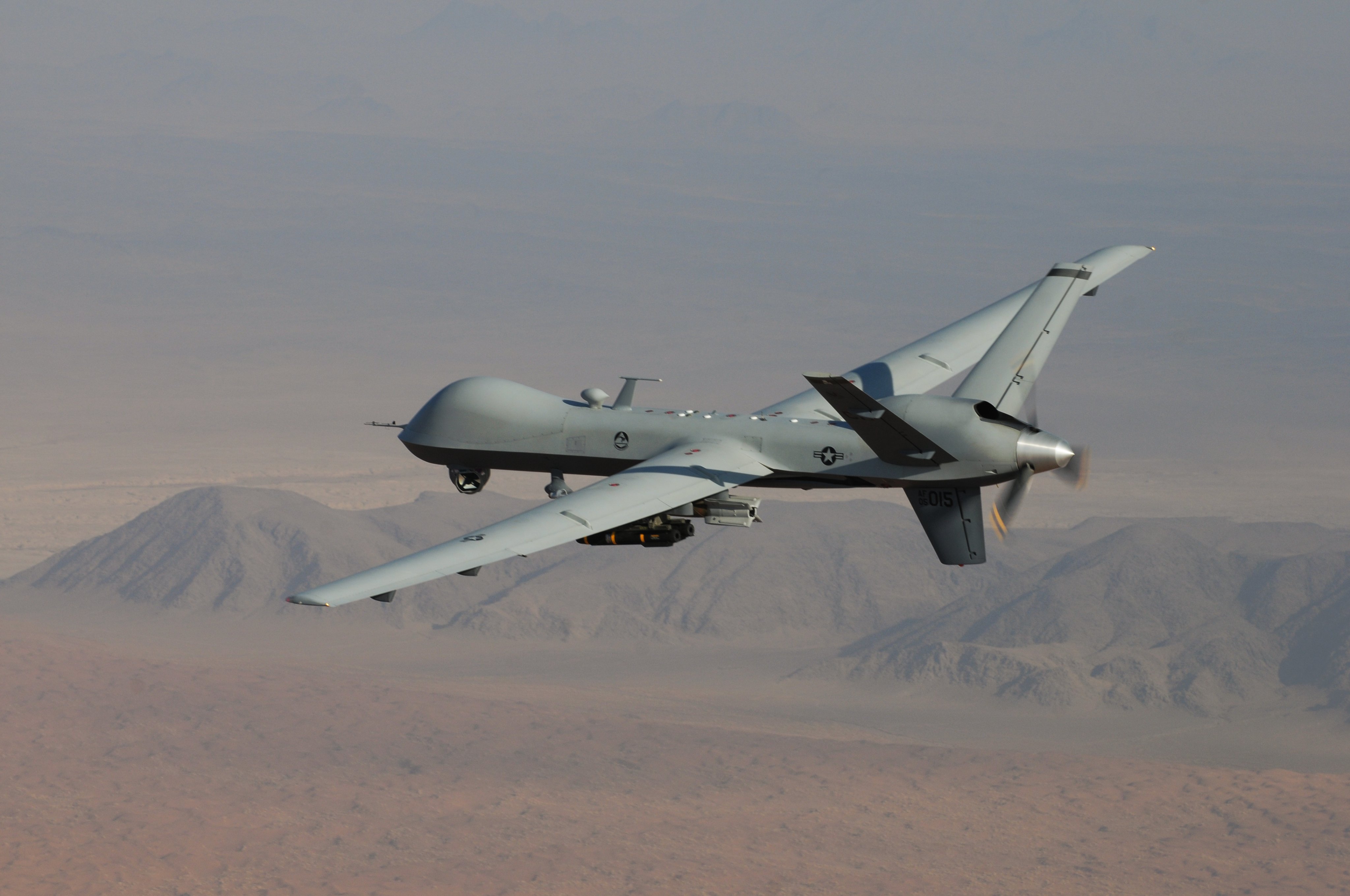 According to a New York Times report, citing Pentagon documents leaked by WikiLeaks, repeated attempts to regain control of the armed MQ-9 were unsuccessful.
Therefore, an F-15E from Bagram Airfield had to be dispatched as a last resort to bring the Reaper down before it ventured into Tajik airspace.
The F-15E fired the short-range infrared-guided AIM-9 Sidewinder missile that terminated the Reaper's engine.
Meanwhile, the MQ-9 controller regained control of the Reaper at the last minute and managed to steer the drone into a remote Afghan mountainside, where it crashed.
Advertisement