India's indigenous Light Combat Aircraft (LCA) Tejas will soon be able to carry BrahMos supersonic cruise missile once the lighter variant of this missile, dubbed the BrahMos-NG (next generation), is ready.
Advertisement
In what could significantly accelerate this development, BrahMos Aerospace CEO and Managing Director, Atul Dinkar Rane, has announced the trials of the air-based version of the next generation BrahMos missile (BrahMos NG) will begin in late 2024.
"We have to make it [missile] smaller," Rane said, adding that the next generation of the BrahMos missile will be "half the weight," and its size will also be smaller. "We are working on that right now. We will start testing that by the end of next year," Rane said.
He said the firm would unveil the missile in two to three years, adding that "it would take maybe a year" to begin production. "So, I will say by December 2025 – the middle of 2026, we will have this smaller missile which we can fit on any aircraft," the CEO said.
ALSO READ: We can be trusted partners of jet engine development : Rolls Royce to India
As of now, the Su-30MKI of the Indian Air Force (IAF) is being equipped with air-based BrahMos cruise missiles. In late December, the IAF test-fired an extended-range version of the Brahmos Air Launched missile against a ship target from a SU-30MKI aircraft.
The new BrahMos-NG is being developed for LCA Tejas and would significantly bolster the combat capability of the aircraft configured to carry short-term thermal missiles and long-range beyond-visual-range missiles.
LCA Tejas had earlier test-fired the fifth-generation Python air-to-air missiles and is currently equipped with the Derby Beyond Visual Range (BVR) air-to-air missile.
Advertisement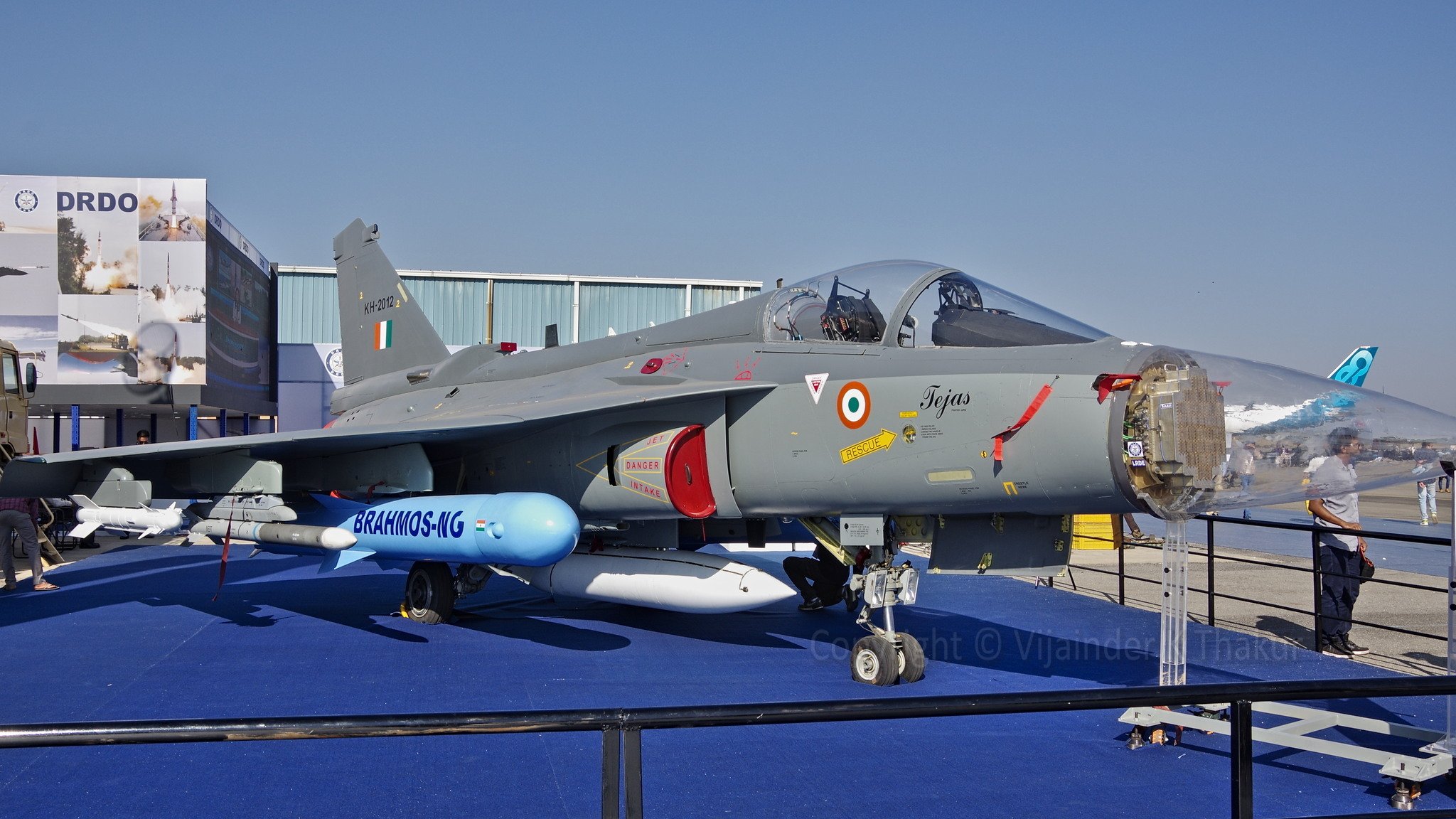 India's most capable BrahMos missile takes its name from the Brahmaputra and Moskva rivers and is developed by a joint effort between DRDO and Russia's NPO Mashinostroyeniya.
The Indian military has long used this missile, which can be fired at sea-based and surface targets from the air, sea, and sub-sea platforms.
With the NG, the weight of the present air-launched missile, which is 2.65 tons, will drop to 1.33 tons. As previously stated by BrahMos Aerospace officials, the LCA can carry two of these missiles, while the SU-30MKI would be equipped with up to four BrahMos-NG missiles.
The BrahMos-New Generation missile will eventually be integrated into the MiG-29 fighters used by the Indian Air Force and Indian Navy. In addition, if the media reports are anything to go by, they will be offered to the Russian Aerospace Forces in the future.
Advertisement
READ MORE
How Is BrahMos-NG Different?
In October last year, the BrahMos Aerospace CEO told reporters that the BrahMos-NG was being worked on, and the design work was in the advanced stages. Detailing some critical features of the missile, he said: "1,330 kilograms is what we are aiming for. Performance in terms of range is the same, 300 kilometers. [We want it to be] launchable from any aircraft [in service in India]".
With a range of up to 290 kilometers and nonstop supersonic flight, the BrahMos missile, which is currently used by all three wings of the Indian military, minimizes target dispersion, shortens engagement times, and ensures that no weapon system can intercept it.
It travels several paths to get there, adhering to the "Fire and Forget Principle."
BrahMos impacts a target with massive kinetic energy, which gives it a powerfully destructive force. Its cruise height can reach up to 15 kilometers, but its terminal altitude is only ten meters. The missile can carry a conventional warhead with a 200-300-kilogram payload.
The BrahMos-NG (Next Generation) missile is a scaled-down version of the BrahMos missile currently in use. It is anticipated to be 50% lighter, three meters shorter, and with the same Mach 3.5 speed and 290-kilometer range as the present BrahMos. It will be around five meters long and weigh about 1.5 tons.
Advertisement
Due to its lighter weight and smaller dimensions, the BrahMos-NG can be carried by various platforms, such as conventional submarines and fighter aircraft. The missile can be launched from land, air, and sea. Due to its small size, this missile can be fired from submarine torpedo tubes.
BrahMos NG has a lower radar cross-section (RCS) than the existing BrahMos missile, making it stealthier and challenging for air defense systems to locate and engage the target.
This missile could also attract foreign customers, especially as the CEO said many foreign states had expressed interest in purchasing various versions of the supersonic cruise missile.
Advertisement
Equipping LCA Tejas with this missile may even lend to the export value of the aircraft at a time when the Indian government has thrown its weight behind exporting this indigenously developed fighter jet but with no success.
The BrahMos missile has been touted as a game-changer by military engineers and experts who believe its deployment makes enemies run for cover.
A scaled-down version of BrahMos could significantly bolster India's firepower and combat capability and potentially be a force multiplier for the Indian Armed Forces when India is confronted with challenges at both of its borders and the threat from China, which is only increasing with every passing day.
Advertisement